Our dear Kung Fu Master Thomas Croc is back and this time for good!
He and his family have now moved to Corfu so his sessions will be long term from now on.
We are very happy to announce our collaboration with
and
Every Friday is Fight Night !
From 8pm to 10pm, a special event dedicated to teenagers(13-18).
Sshh...! What happens in Fight Night stays in Fight Night !
It will be a place to learn self-defence, respect and traditional fighting. Supervised by an experienced Kung Fu teacher, it will be fun and challenging.
Overall a great way to spend your Friday evening amongst friends learning and practising Kung Fu !
Not everybody can join this event and an interview will be necessary.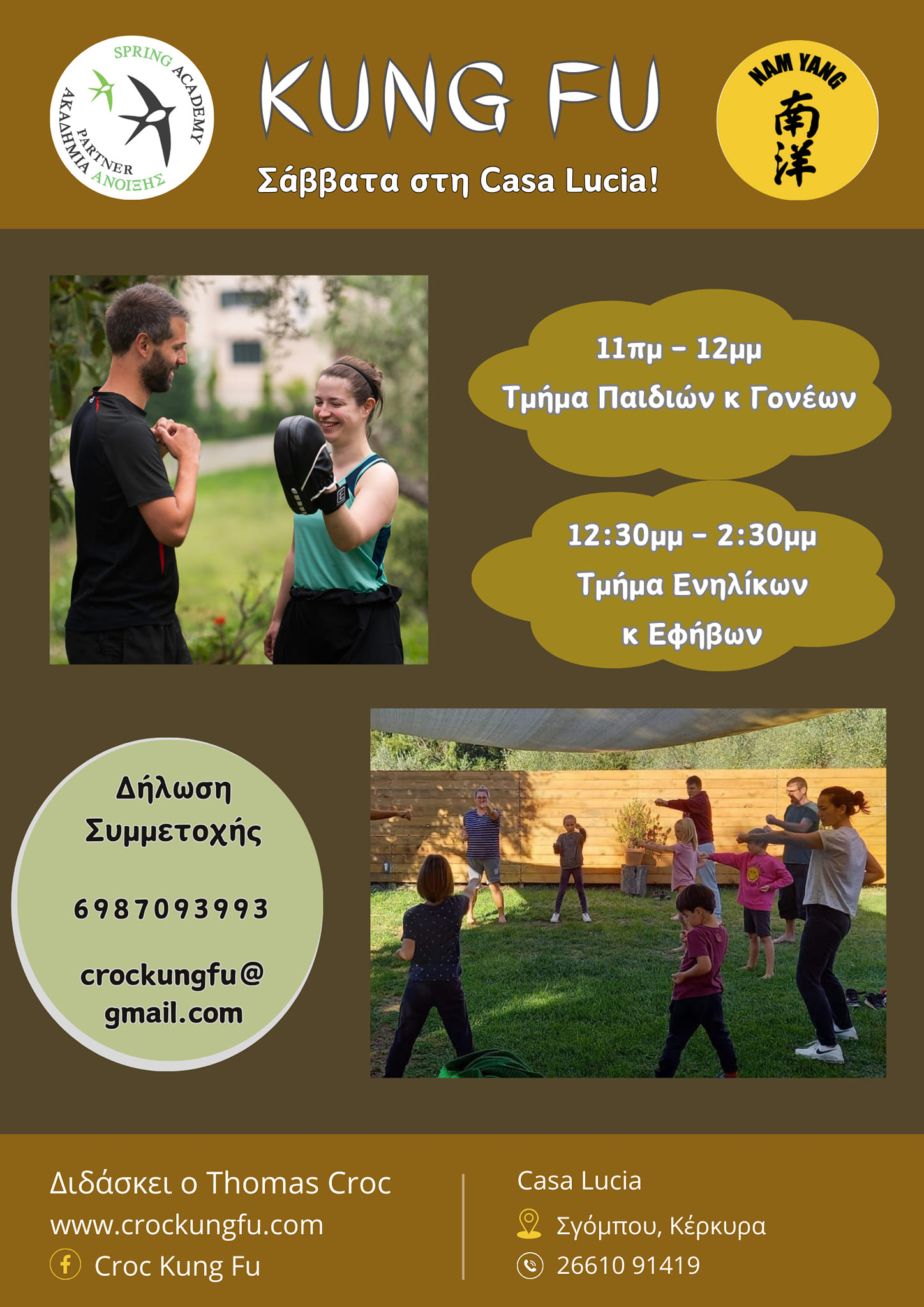 Every Saturday a 3h Yin & Yang Kung Fu session.
It is recommended to attend both Yin & Yang sessions for a more complete practice but it is possible to attend only one part of it if necessary.

From 10am to 11:30am: Yin Kung Fu Class, Chi Kung, Walking Meditation & Shuang Yang(Tai Chi).
From 11:30am to 1pm: Yang Kung Fu Class, Warm up, Traditional Shaolin Yang training & Stretch.
About the teacher :
Thomas Croc is a Martial Arts Teacher, specialised in Traditional Shaolin and Tiger Crane Combination Kung Fu.
He has lived, trained and worked as a full time instructor at the Nam Yang Kung Fu Retreat in Thailand.
He is a student of Master Iain Armstrong , who was a disciple of Master Tan Son Tin. Since 2020 Thomas is living and teaching in Greece and is in the process of creating a Nam Yang Greece branch of the school.
Thomas Croc lives and teaches in Corfu and offers intensive Kung Fu retreats. For more information visit www.crockungfu.com