In this course Tew will share the mythological context of the practice.
Myth has always been a means of exploring and understanding our human potential.
The mythic aspect of the Taiji enriches our practice and provides another dimension to the art.
Programme
Starting Friday afternoon June 9th: 15.30-19.30 Taiji/Qigong , Meditation, (Supper).
Saturday 10th and Sunday 11th: 08.00-09.00 Taiji/Qigong, (Breakfast), 10.30-13.30 Taiji/Qigong, (Lunch),15.30-19.30 Taiji/Qigong, Meditation, (Supper).
Finishing Monday 12th: 08.00-09.00 Taiji/Qigong, (Breakfast), 10.30 Closing
270 euros for the whole course:
Self-catering shared accommodation at Casa Lucia is 35 euros per night, 55 euros single occupancy: self-catering, or plus 75€ for 3 breakfasts and 3 meals.
Concessions are available.
For bookings please contact Val at Casa Lucia.

EUROPEAN SCHOOL OF T'AI CHI CH'UAN www.metta-taichi.org.uk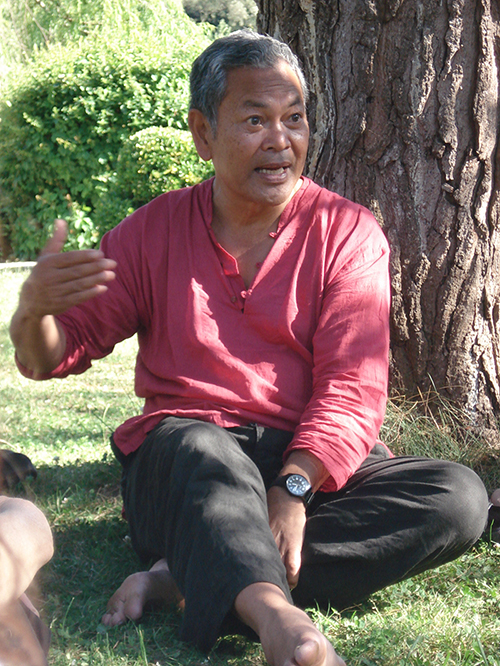 Born into a diplomatic family in Bangkok in 1947, Tew Bunnag was educated in England and read Chinese and Economics at Cambridge University, graduating in 1968.
In 1975 he helped to establish a spiritual therapeutic centre outside Cambridge which combined traditional Eastern practices such as meditation and T'ai Chi with Western approaches.
In 1986 he moved to Greece with his family and opened the Centre in Athens, teaching t'ai chi and meditation, at the same time travelling and teaching in Europe.
In 1989 he came to Corfu for the first time and started the Corfu T'ai Chi group, giving monthly classes and summer workshops.
After an absence of a few years in Thailand, he returned to Corfu in 2007 and has been visiting the island every spring and autumn since then. He is the founder of the European School of T'ai Chi Ch'uan and divides his time between his home in Spain, and Bangkok, Thailand, where he is very actively involved in the Mercy Centre for street children and families with Aids.
He is an author of works on T'ai Chi and meditation, as well as novels and stories of life in Thailand. In Spain he is currently the president of Vinyana , an association offering training to doctors and nursing staff as well as family carers on integrating Spiritual Care and how to find a compassionate way to treat and help the dying.