We are thrilled to be sponsors of the Velvet Room and their groundbreaking project, the Velvet Bus travelling festival.
The Velvet Bus is a music-visual arts-cinema educational D.I.Y. festival that aims to promote a contemporary independent art scene and bring it into direct contact with the Greek region.
The first VELVET BUS tours took place from 2008 to 2011 and now some years later, the Velvet Team, the Velvet Room and a large team of musicians, artists, filmmakers and graphic designers take the Velvet Bus, ships, trains and bicycles and tour as a contemporary alternative "flock" throughout Greece.
First stop, the Ionian Islands. Corfu, Paxos, Lefkada, Kefalonia and Ithaca. This first round will end with a big event in Athens.
On every island, events, concerts, art exhibitions, film screenings, workshops and talks will take place over two days in concert venues, multipurpose spaces, theaters, bars and cultural organizations.
On Sunday 1/9 at Casa Lucia:
·

17: 00-21: 00 Art Exhibition-Talks-Workshops

·

21: 00-23: 30 Short Film Screenings
For all ages.
Free entrance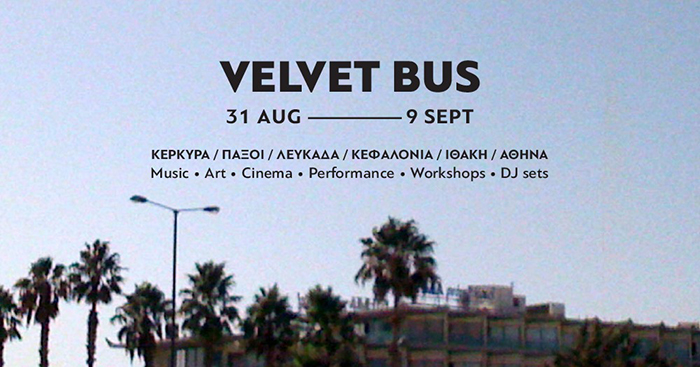 Art Exhibition Curated by Marina Velisioti:
Toumboura Sofia, Giorgos Tourlas, Pavlos Tsakonas, Alexia Karavela, Marina Velissioti, Theodora Malamou, The Callas, Philippos Kavakas, JOLA, Myrto Xanthopoulou, Sofia Papakosta, Evi Kalogiropoulou.
Workshops and Talks Topics: contemporary D.I.Y. artistic practice. DoItYourself Music productions, Zines, NoBudget cinema, rhythms and music in our kitchen, bathroom and bedroom.
Beat and Rhythm A workshop on rhythm and rhythm patterns that are familiar to us.
Making a journal - zine What is a zine and how can we make our own with the tools we have at our disposal. Anatomy - Material - Implementation - ''Distribution''.
Iwanttobeasongwriter Tips on how to compose a song, we will talk about "home" studio vs professional studio and a general presentation of well known songwriters like Joni Mitchell and Elton John.
CinemaNow! How you can make your own movie with simple tools, low budget, collaborations, hard work and dedication.
Short Film Screenings curated by Nikos Pastras:
Leda Vargioti, Vassilis Kekatos, Jacqueline Lentzou, Christos Massalas, Daniel Bolda, Dimitris Tsakaleas, Lia Tsalta, Daphne Heretaki, Kostis Haramountanis
Saturday 31/8 at Polytechno
·

21.00-24.00 Live The Callas / Sillyboy's Ghost Relatives / LOY / S.E.M.

·

24.00-02.00 Dj set: Chris B.I.
Lakis and Aris Ionas / Velvet Team / The Callas
Since 2005, the brothers Lakis & Aris Ionas, have developed an unprecedented, diverse project, the Velvet team.
Having studied fine arts in England (MA – Chelsea College of Art), they returned to Greece in the mid-2000s, and began to engage in various forms of art and cultural productions.
Over the years, they have created a group of musicians, artists, filmmakers and graphic artists. This group of collaborators and friends is a large collective, which for almost 15 years under the name VELVET, present contemporary independent artistic creations, through publications, films, concerts, festivals, events, in Athens, throughout Greece and in many European cities, always with high aesthetics and absolutely professional standards.
A summary of Velvet's activity:
· Publication of the cultural-youth monthly freepress magazine, Velvet magazine / 2005–2010.
· Velvet Bus. Tour of Greek bands, artists and filmmakers, all over Greece with one coach / 2008 -2011.
· Velvet festival. Three-day festival in Athens, with artists, filmmakers and musicians at BIOS (G. Lanthimos, G. Economidis, E. Stephani, A. Voulgaris, TheLast Drive, Baby Guru and more) / 2005-2011.
· Publication of the bi-monthly Lust magazine, with exclusively female editors and themes on female creativity / 2012-2014.
· Lust lands festival. Artistic and musical activities and literature, on a farm in Ermioni Argolida, with the participation of: Leonidas Empirikos, Nadia Argiropoulou, Maria Papadimitriou, Athens Biennial and more / 2012-2013.
· Velvet Volcano. Festival of video art and live music, in the Fossil Forest of Sigri, Lesvos, in collaboration with the Natural History Museum of Lesvos / 2007.
· Velvet Prize. Annual Audience Vote and Best Publication Prize, on the independent stage with a trip to London and a concert at the famed Ar trocker Magazine Club as a prize/ 2007-2010.
At the same time, under the title The Callas, the Velvet team has exhibited works in major Greek and international institutions and museums, such as: Documenta 14 (Athens - Kassel), Palais de Tokyo (Paris), Family Business gallery (New York), DESTE foundation (Athens), Benaki Museum (Athens), Faggionato Fine Art (London), Athens Biennial (Athens), Andreas Melas gallery (Athens), YinkaShonibare Space (London), The Breeder gallery (Athens), ATOPOS cvc (Athens) and more .
On the world music map, they've collaborated for many years on many different projects, with artists such as: Lee Ranaldo (Sonic Youth), Jim Sclavunos (Nick Cave, Lydia Lunch, The Cramps), and performed live in: Europe and America , with artists like Thurston Moore, Lee Ranaldo, The Brian Jonestown Massacre, Ty Segall and Nick Cave.
Global media such as the New York Times, The Independent, Brooklyn Vegan, Vice, Noisey, MOJO have reported on the cultural production of the whole group.
Velvet